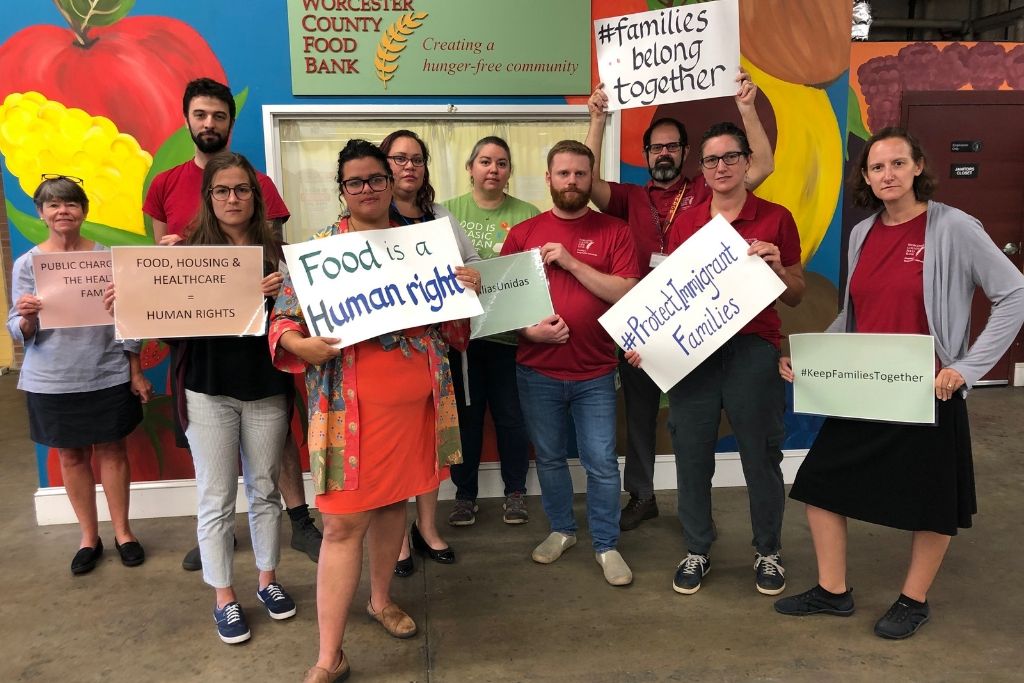 Statement of Jean G. McMurray, Executive Director of Worcester County Food Bank, regarding the Trump Administration's "public charge" rule.
On August 12, 2019, the Trump Administration released its final version of changes to the "public charge" rule, adding SNAP participation as a consideration against low-income immigrants seeking a green card, an extension or a change to their temporary status in the U.S.
As a regional anti-hunger organization that believes good food is a basic human right, Worcester County Food Bank (WCFB) is extremely concerned and disheartened to learn that the final rule includes participation in the Supplemental Nutrition Assistance Program (SNAP) as part of the criteria used to determine one's status as a "public charge."  "Public charge determination" has long been a part of federal immigration law and the process used by the U.S. government to deny green card status to individuals they think could become dependent on government assistance.  Until now, only cash benefits and government funded long-term care were considered, so this rule is a radical change in the process and just the latest in the series of attacks by the Trump Administration on our low-income immigrant neighbors.  The rule will seriously harm their health and well-being by making it more difficult for them to afford food.  The rule does not apply to WIC, school meals and other child and adult nutrition programs.
When the Trump Administration first published its proposed rule in October 2018, WCFB heard troubling stories of immigrant families dropping SNAP benefits and not seeking food assistance because they were confused and scared that their future status or that of their family members would be impacted.  Immigrant families – whether comprised of children, older adults, veterans, low-income wage earners, and people with disabilities – often include U.S. citizens.
WCFB stands with immigrant families and in opposition to the rule because it discourages immigrant parents on the path to citizenship, who are working hard to make ends meet, from using services they and their children are legally entitled to, and which millions of people in the United States use in times of economic hardship.  SNAP is our nation's first line of defense against hunger and a highly effective program.  With a small average benefit of $1.40 per person per meal, it lifts millions of people out of poverty, and it has demonstrated long-term benefits for children, including better health and education outcomes.
Here are some important things to keep in mind:
It is best for people to seek expert legal advice before making any decisions that could impact their SNAP benefits. Community Legal Aid is a great resource.
The new changes will not be used by immigration officials until October 15, 2019.
The rule will also not count any programs (other than cash or long-term care) used before October 15, 2019.
Programs used by your U.S. citizen children will not be counted against you.
Visit Protecting Immigrant Families for additional resources.
This rule is at odds with the fundamental values WCFB stands for, and with our mission of building a hunger-free and healthy community.  We will support ongoing efforts to stop this mean-spirited rule from taking effect. WCFB and its network of food pantries and meal programs will continue to provide food and help our fellow community members, including our immigrant neighbors, work towards better lives.  We will also continue to advocate for programs and policies that support all our neighbors in being more food secure and self-sufficient.  For Worcester County residents looking for food resources in their community, please visit WCFB's website, foodbank.org.