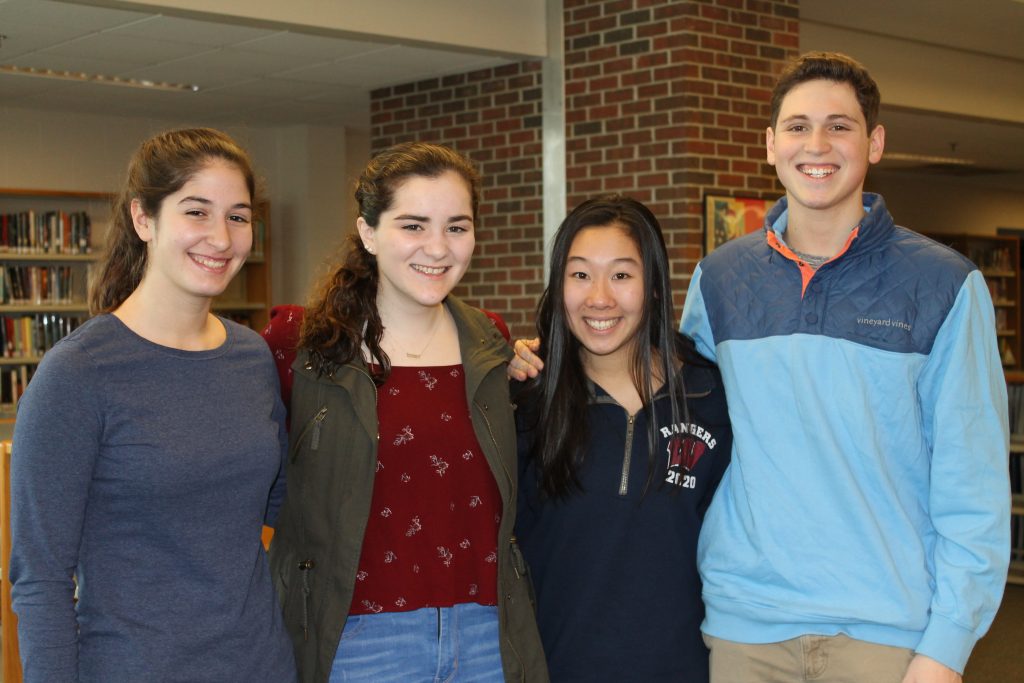 Westborough, Ma. – It might not be the first place that comes to mind when one envisions a community where people are hungry. With a strong public school system and high median household income, residents turn out for holiday strolls and block parties in a downtown that's quintessential New England.
But here, too, neighbors are struggling. Around 5% of the population lives at or below the poverty line, and others who don't are getting by paycheck to paycheck. In that same downtown, Westborough Food Pantry – a Worcester County Food Bank (WCFB) Partner Agency – serves over 130 local families each year.
"Even if people aren't talking about it, it doesn't mean hunger's not here," said Westborough High School Junior and Rangers Fight Hunger Chairperson, Carolyn McDermott.
McDermott, who volunteered for the Appalachian Service Project and witnessed hunger firsthand, was moved to do something about hunger in her own backyard. "It's in our community. It's in surrounding communities. And here we are: We're already taking leadership roles…active in lots of ways in our school. What if we took it to the next level? What if we led our community and involved everyone in town in being a part of the solution?"
So McDermott, and her fellow Westborough High School Student Council members, launched "Rangers Fight Hunger" in fall 2018 to collect food and raise funds for local anti-hunger organizations, including WCFB.
"First, there was a community baking day," said Miara Sasdi, the Council's Events Overseer. The Council teamed up with the school's Community Cooking Club to cook fresh food for Rachel's Table, which was later delivered to Friendly House Neighborhood Center (another WCFB Partner Agency) in Worcester. "It was apparent how much everyone – from other students to our advisor [Joseph Teevens] to the Community Cooking Club president [Michael Durr] and advisor [Susan Leuci], to our principal [Brian Callaghan], to our office staff and custodians – supported this project." Case in point: "We came in on a Saturday. We put on some music and just cooked and talked and bonded, the students, the teachers…" In addition, said Sasdi, students held a bake sale to raise funds in support of local hunger relief.
"We figured food is important, but so is the money to help support these organizations…to get food to people who need it," said McDermott.
Next, students contacted grocery stores in and around Westborough to solicit donations of food and gift cards. In the process, said McDermott, "We raised awareness." Student Council members joined members of the school's National Honor Society to take the message of the event – and the story of hunger in Worcester County – out into the community. "We were standing down at Roche Bros., talking to people, telling them what we were doing and why it mattered, and they got it. They really got it," said McDermott. In total, students raised a collective $1,500 for Rachel's Table, Project Bread, and WCFB.
"It started with Carolyn's idea here at the high school and, by the time we wrapped up Rangers Fight Hunger," said the Council's Community Service Overseer, Cassidy Ho, "the community was involved in making a difference for people right here and in other parts of the state."
Added McDermott, "We're a part of the solution. We're a part of making change."
Want to be a part of the solution? Inspired to host a food and fund drive in your school or workplace? Let's talk. We're always happy to connect around what we've seen work well! Plus, we like knowing what you're up to and sharing when we can! E-mail us.